2022 Online HYSPLIT Workshop
Hosted by NOAA's Air Resources Laboratory
Workshop. A four-day HYSPLIT workshop will be given online from June 14 to 17, 2022. Monday, June 13, is set aside as a preworkshop day for illustrating HYSPLIT installation and answering installation questions. Attending the session on June 13 is optional. It is only offered for those who are still having problems with installation, after attempting on their own and after consultation with their institutional IT support, if applicable.
The virtual workshop will be focused on the use of the most recent version of the model on the PC/Mac and its Graphical User Interface (GUI). The Workshop (Detailed Agenda) is designed to be "hands-on", with participants following along and carrying out HYSPLIT modeling on their own local computers. No prior modeling or experience with HYSPLIT is required. An overview of the installation, model GUI, meteorological display programs, and extensive training on how to solve atmospheric dispersion problems will be presented. As the Workshop proceeds, several real-world examples of increasing complexity will be explored. Participants will be encouraged to install the model and download course materials prior to attending, and instructions are provided below.
Registration.
Advance registration is required. We regret to say that we have reached the participant limit and registration is now closed.
For those unable to participate because of our attendance limitations, the material taught in the Workshop is both online and downloadable [HYSPLIT Tutorials] and is designed to be carried out independently in a self-paced fashion.
Cancellation. If your status for the Workshop is "Confirmed Participant" and you decide not to attend, please cancel your registration, to make room for others, by emailing arl.webmaster@noaa.gov.
Workshop Logistics
Webinar Links. Unique sign-in URL's was emailed to each confirmed participant during the week before the Workshop starts. These URL's are unique to each individual and should not be shared.
Handouts, Notes, and Recordings. Videos of each day's on-line sessions are being created for review by participants, e.g., for those in time zones that would make online participation difficult. Processing of the videos to make them viewable takes significant time. When the video is posted, the corresponding entry below will become a link. When you click on one of these links, you should be able to view the video directly. To download a video recording, start playing it. Then place your mouse anywhere in the video area and right click the mouse. Choose the "Save As" menu.
Certificates. Workshop participation certificates will be made available for all attendees.
Screen considerations. Since this is a hands-on Workshop -- i.e., participants will follow along with their own HYSPLIT Modeling -- several kinds of items will need to be displayed at the same time on your screen(s):
Several HYSPLIT windows devoted to your own hands-on HYSPLIT modeling
One or more windows devoted to your own viewing of the Tutorial
The Workshop Webinar being presented by the instructor, containing many of the same types of windows
The figure below gives you an example of what this might look like. It will be difficult to simultaneously display all of these windows on a single screen, especially a relatively small laptop screen. We recommend that a 2nd screen be used, if this is possible, e.g., to display the Workshop Webinar video. In this way, the participant can carry out their hands-on HYSPLIT work, in conjunction with the Workshop, and still conveniently view the ongoing, associated instructions. If desired and if the participant has this available to them, the Workshop Webinar can even be "cast" to a different device (e.g., a TV), leaving the computer screen for the Participant to carry out their hand-on HYSPLIT work and their own display of the Tutorial.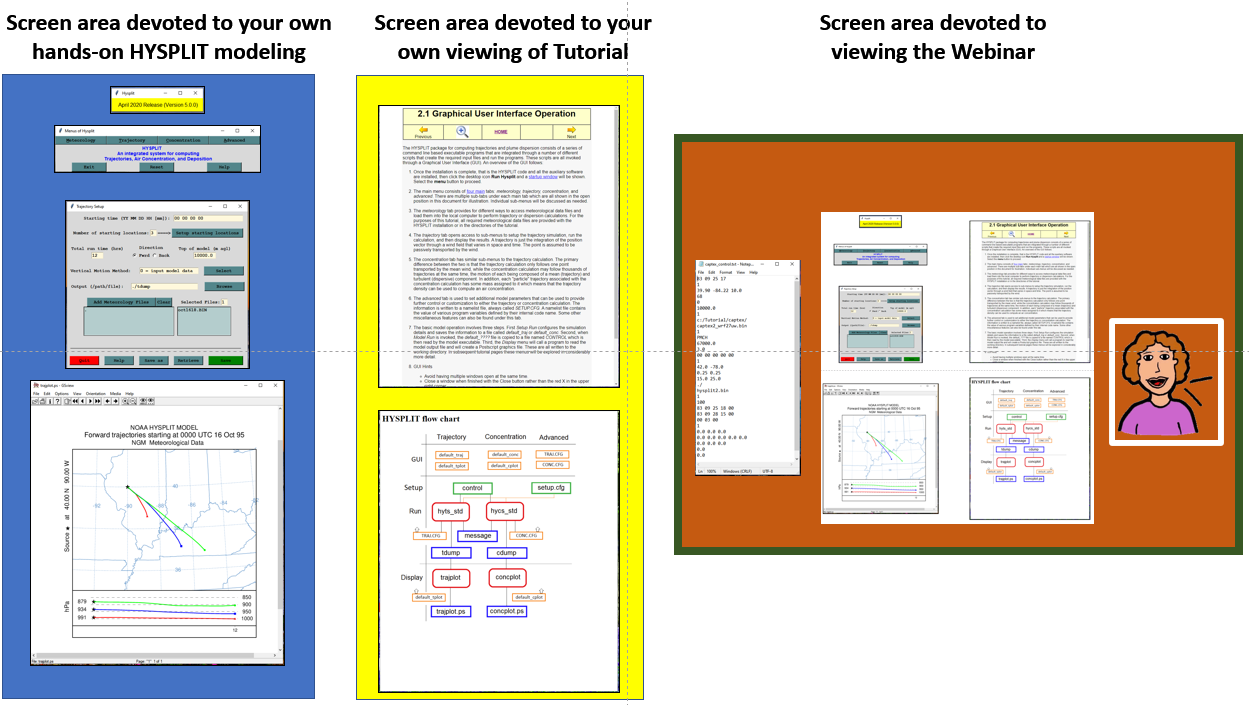 Key Steps to Take Before the Workshop
Download the primary course materials - Tutorial.zip - and unzip the contents. For Windows users, unzipping to c:\Tutorial is recommended, to be most fully consistent with preconfigured input files, but placing the file elsewhere is also possible, e.g., c:\users\your_name\Tutorial. For MAC users, the file can be unzipped to the Home directory. On any operating system, if unzipping to a different directory name, avoid directories with embedded spaces because many programs in the HYSPLIT system use the space as a file name delimiter.

Navigate to the Tutorial directory and open Index.html in a browser window. You should see something like the screenshot at right.
Click on the link in section 1. Installing HYSPLIT to the instructions for your operating system (Windows PC, Apple MAC OSX, or UNIX-LINUX) and follow the instructions there to install HYSPLIT and associated software on your computer. As described in the Installation instructions, graphical utilities should be installed prior to HYSPLIT. E.g., for Windows installations, Tcl/Tk, and ImageMagick should be installed prior to installing HYSPLIT.

For Windows users only: Two legacy executables included in versions 5.2.0 and 5.2.1 (and earlier releases) were found to have an issue. They are txt2dbf.exe and dbf2txt.exe. They create and check DBF files for Geographic Information System (GIS). Please download and unzip the dbf_util.zip file and place the executables in the hysplit exec directory to overwrite the existing.

Installation may require administrative privileges, and we urge you to work with your IT colleagues to successfully complete this installation process if necessary. The Workshop is intended to be hands-on, i.e., the participants will be following along and will be carrying out the steps in the Tutorial themselves.

Due to the large number of participants, it will be difficult for us to provide significant installation help once the Workshop starts. We will try to answer questions, but installation issues can be difficult to efficiently resolve remotely. Thus, we strongly encourage all participants to make every effort to complete the installation before the Workshop starts.
If you encounter any installation issues prior to the Workshop, please post your questions [Forum > 2022 HYSPLIT Workshop Questions > Installation], and we will assist you. A separate registration is required to post to the Forum (see item 6 below).

If possible, try "test" the installation by following instructions in section 2 of the Tutorial, "Test trajectory calculation" and "Test air concentration calculation". If you can successfully reproduce the steps outlined in these sections on your computer, the installation process has most likely been successful.
If you are not already registered for the HYSPLIT Forum, create a free account at https://hysplitbbs.arl.noaa.gov/, by clicking on the Register link near the top right of the page. Questions before the Workshop, e.g., about installation, can be posted here. The Forum will also be the primary way that participants will be able to ask questions during the Workshop itself.